Novel Coronavirus Expert Meeting has proposed the necessity that people should switch to the New Lifestyle as the long term measures to prevent COVID-19 infection from spreading even in the areas where the number of infected patients had become limited, and has introduced some concrete practice examples.
◇The practical examples of New Lifestyle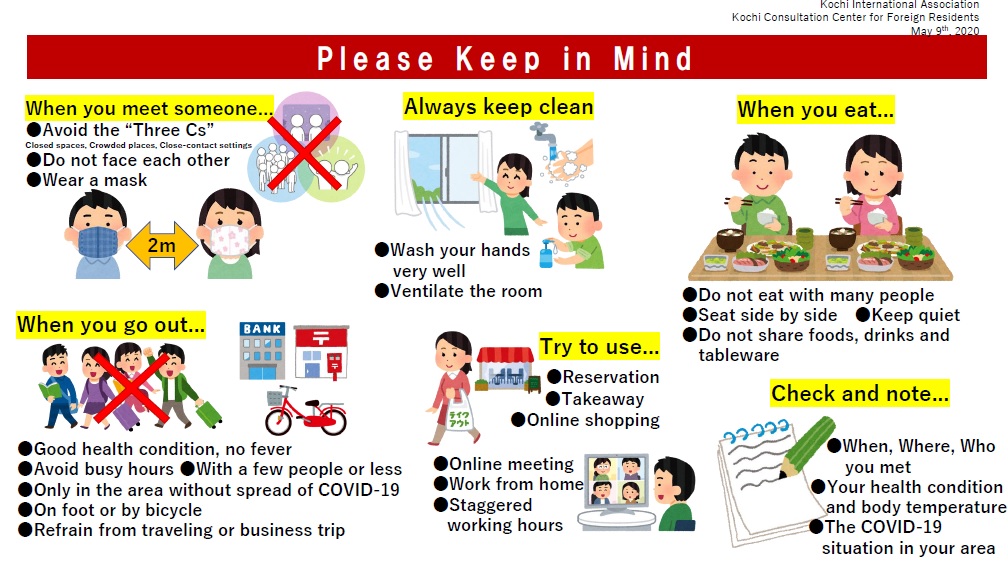 ◇"The New Lifestyle" in Japanese on Kochi Prefecture's website can be found here:
https://www.pref.kochi.lg.jp/soshiki/111301/files/2020042400161/file_202051221814_1.pdf
Some cases were confirmed that even those who were asymptomatic or mild COVID-19 patients had spread the virus to others. In order to prevent COVID-19, it is essential not only to protect yourself from infection but also to prevent yourself from spreading the infection to others. And it is most important for everyone to keep them in mind.
(The website of Ministry of Health, Labor and Welfare)